A brief example of how the Amazon Echo Dot can work in combination with our OSD Audio Bluetooth Speakers
Here is my story, and I'm sticking with it.
I wouldn't say I like writing, and my wife is intimated by technology but here we go.
Our story starts more than three years ago when I brought home a BTP650 6.5" Bluetooth Patio speaker kit, and my wife said, "Oh no, you don't!", but I responded, "You are going to love these." Ok, perhaps the 6.5" speakers I wanted were too big. To avoid having to sleep on the couch, I compromised and purchased the smaller pair of BTP525, the 5.25" Bluetooth Speakers, which seemed to pacify her. After installing the said smaller pair of speakers, I upgraded my Spotify account to the family plan, adding both my wife and daughter. I loaded the app on her phone, perfect in my mind.
Then after two years of her telling me what music she wanted to hear when out on our deck, I realized she had never opened the Spotify App on her phone and probably never would. Ironically, I discovered in the ALEXA app that I could program the Echo Dot to transmit Bluetooth. So, I looked up available speakers that I could sync up with, and there the BTP525 showed up. After connecting with the Bluetooth Speakers, I asked my wife to join me out on the deck. "Oh dear, ask Alexa to play a Stevie Wonder song," and suddenly Stevie was crooning to my wife. We discovered that even if we unplugged the unit and brought it in at night and brought it out the next day, it would automatically reconnect. I found this worked with either the Echo DOT Gen 2 or Echo DOT Gen3. So ever since my discovery, I have never felt quite as needed. So, for the last year, she and "her" Echo Dot have been inseparable when out on the deck.
The moral to the story; Happy Wife, Happy Life.
BTP525 still sounds as good as it looks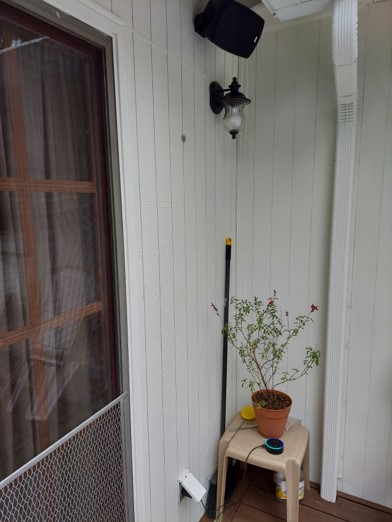 BTP525, with the Alexa Echo Dot 2 outside.
BTP525, with the Alexa Echo Dot 2, works just as well inside the house.