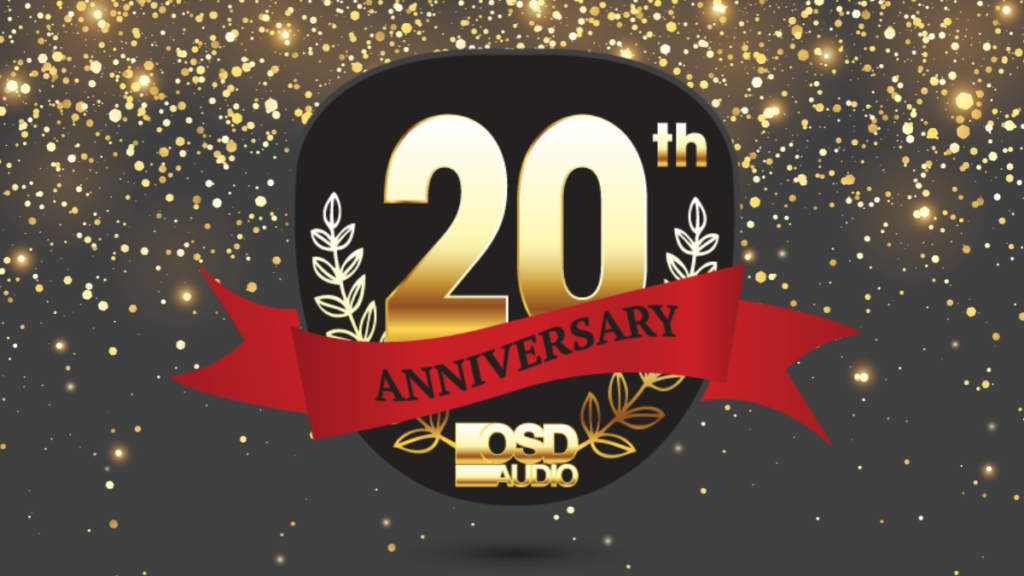 Dear valued customers,
We are thrilled to announce that OSD Audio is celebrating its 20th anniversary! It has been a remarkable journey filled with innovation, growth, and, most importantly, your support.
As we reflect on the past two decades, we are incredibly proud of the milestones we have achieved. Our commitment to providing high-quality, affordable audio products has earned us a loyal following, and we are grateful for the trust and support of our customers.
Over the years, we have carried a wide range of products, from indoor and outdoor speakers to subwoofers, amplifiers, and streaming solutions. Our goal has always been to provide our customers with the best possible audio experience at an affordable price.
One of our most popular products over the years has been our in-ceiling and in-wall speakers. These speakers are perfect for anyone who wants a high-quality audio experience without the clutter of traditional floor-standing speakers. Our in-ceiling and in-wall speakers are easy to install, provide great sound quality, and blend seamlessly into any home décor.
We have also been leaders in outdoor audio solutions, with our range of outdoor speakers and subwoofers. These products are perfect for anyone who loves spending time in their backyard, whether it's hosting a party, relaxing with family, or watching a movie under the stars. Our outdoor speakers are weather-resistant, durable, and provide excellent sound quality in any outdoor environment.
In addition to our speakers, we have carried a wide range of other audio products over the years, such as streaming solutions, amplifiers, and subwoofers. Our amplifiers provide exceptional sound quality and are perfect for anyone who wants to power their speakers without breaking the bank. The streaming amplifiers and multiroom audio controllers and power amps have also been a big hit with our wholesale customers. And our subwoofers are perfect for anyone who wants to add some extra bass to their audio setup.
As we celebrate our 20th anniversary, we would like to thank our customers, employees, and partners for their unwavering support. We couldn't have done it without you. Here's to the next 20 years of providing high-quality audio products at an affordable price!
Sincerely,
The OSD Audio Team