Thumbnail Filmstrip of OSD Nero App Control 6x Zones 6x Source 80W Multi Room Amplifier iOS Android, Control4 Driver Images
Features:

High efficiency Class D multi-room amplifier with smart phone/tablet control

Provides a whole house audio control system with expandability to up to 18 zones (limited to six sources)

Free iOS/Android App to help control each zone/room via smartphone or tablet

Each zone can drive a single 4-ohm pair (80W x 2) of speakers or two pair of 8-ohm (40W x 2)

Includes stereo/bridge mono output for combining zones (120W @ 8 ohms)

Includes three stereo line-level pre-amp L&R RCA outputs (zones 1-3) and six stereo line-level L&R RCA analog source inputs

Zones 1-3: both the internal output and preamp outputs are active at the same time

4 Stereo line-level L&R RCA analog source inputs, one 3.5mm, and an optical/3.5mm combination source inputs

RS232 allows transferring and receiving serial data of home automation devices

Six individual zone status (3.5mm) to control external zone devices via 12V triggers

Six IR emitters (3.5mm) mono RCA outputs and one IR emitter/blaster (3.5mm mono all output)

One PA input jack to set all zones to source 1 (12Vdc trigger)

Automatic gain control brings low input levels up to a preset-level

Multi voltage selector (115V or 230V)

AC input connection with fuse receptable (CE certified)

Optional control keypads feature built-in IR receivers for each zone

IR remote included in the optional control keypad kit along with Cat5e network cable hub

Includes expansion ribbon cable, pre-installed rack ears, and speaker terminal blocks
The NERO MAX12 is a highly efficient Class D multi-channel audio distribution system that powers up to six zones with up to six different sources for well-rounded and easy to manage residential and commercial audio systems. This multi-functional and highly compatible and expandable amplifier is engineered with cutting-edge features including App Control for iOS and Android devices. The free App duplicates the optional control keypads and allows you to select zones, adjust volume, treble and bass, or turn all zones on or off directly through a smartphone or tablet. Designed with A/V integrators and homeowners who want the most flexibility, the NERO MAX12 includes numerous input sources including four stereo line-level RCA, one 3.5mm aux, and one optical/3.5mm combo analog source input. In addition, RS232 and ethernet ports allow transferring and receiving the serial data between home automation systems. The NERO MAX12 features six zones of reliable amplification at 40W per zone at 8ohms or 80W x 2 @ 4 ohms and includes stereo/bridge mono output for combining zones (120W @ 8 ohms).
Expanding Beyond Six Zones
The NERO MAX12 includes unbalanced line level pre-amp outputs that can be used to connect an additional amplifier for Zones 1-3, a powered subwoofer, or dedicated subwoofer amplifier with a passive in-wall sub. The system can be expanded by adding 1 to 2 more multi-channel amplifier base control units to expand to up to 12 or 18 zones with a maximum of six sources. An expansion cable connects to the additional units and there is a "master/minion" switch on each unit where you determine which component is the master featuring the six-source inputs. The NERO Max12 can be controlled via, R232, Wi-Fi/App, or optional IR remote/control keypads.

NOTE: If you have a 32-bit phone you might not be able to find the OSD Control App in the App Store, if so please CLICK HERE

Read More
Read Less
Technical Specifications
Power: 8 Ohm - 40W x 2 per zone / 4 Ohm - 80W x 2 per zone
Bridged: 8 Ohm - 120W per zone
S/N: >85dB A WTD
THD: >0.1%
Freq Response: 20Hz-20KHz
Input Impedance: >47 K Ohm
Input Sensitivity: 250mv
Protection: Overload, Short Circuit, Temperature
System Voltage: DC +12V
External Mute Voltage: DC +12V
Power Supply: AC 115V/60Hz - 230V/50Hz
Output Connection: Terminal Block
Dimensions: 16.9" W x 3.5" H x 16.4" D
Weight: 25lbs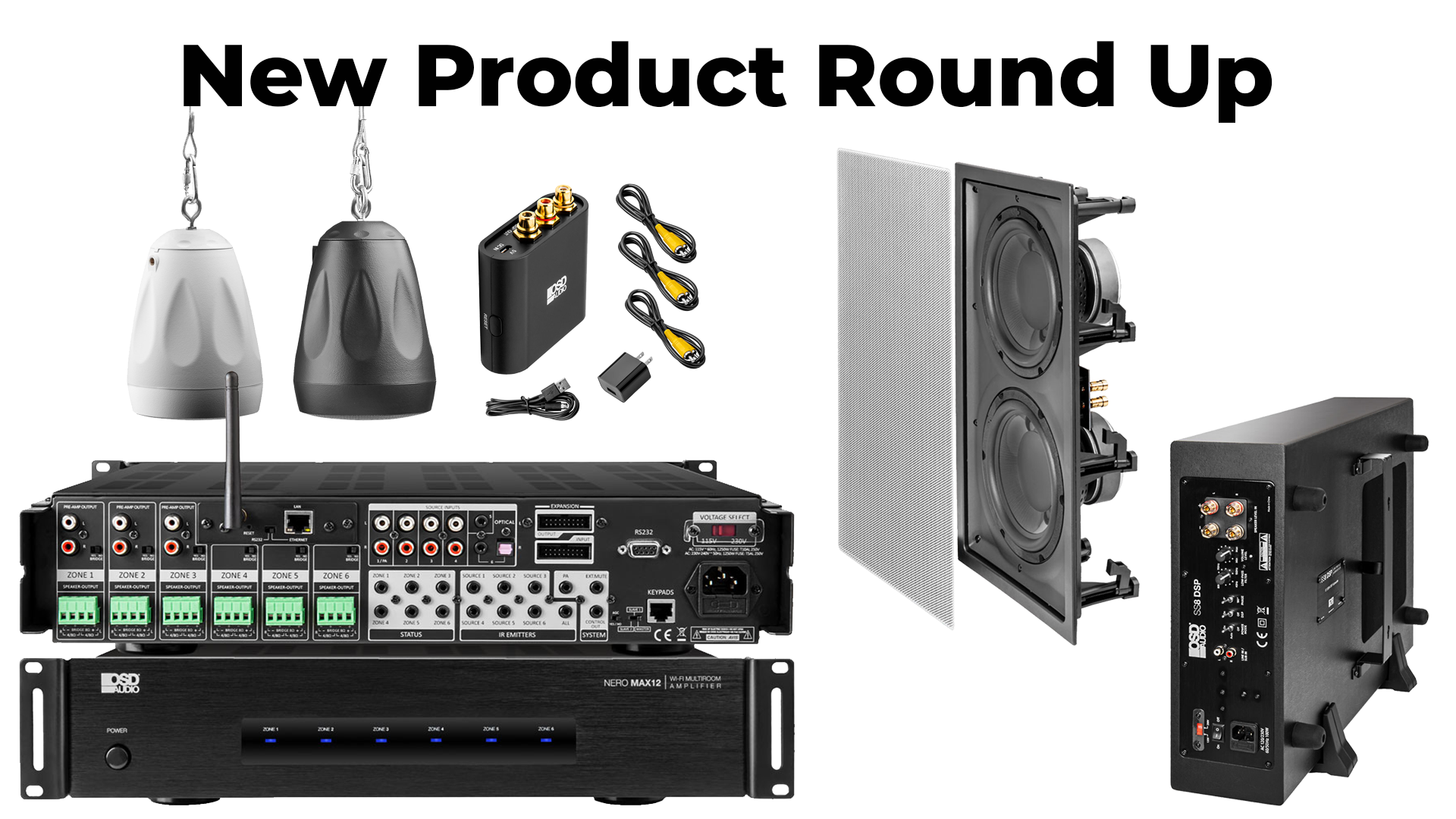 A quick look at the new products that have arrived […]