Thumbnail Filmstrip of OSD Trevoce 10 EQ DSP - 10" Triple Driver Powered Subwoofer 500W, DSP App Control, Faux Leather Images
*NEW EQ DSP, The new native EQ added to the Trevoce line has allowed us to extract the maximum bass extension possible from our design, reaching 25Hz. This allows the full range of musical instruments and special effects to be reproduced. The Trevoce8 EQ DSP does this all without any increase in the size of the sub.

Features:
High-impact triple-10" powered stand-alone subwoofer for home theaters and high-end listening rooms

Triple-symmetric woofer design that includes a single active 10" Graphite Paper Cone Woofer with dual 10" passive Glass Fiber Cone radiators for maximum woofer performance in a small enclosure

Built-in DSP enhances bass and ensures extremely low distortion

Includes free iWoofer App to shape frequency response and customize bass output right from your smartphone

500W of power delivers pushes the SPL for goose-bump worthy and articular bass

Includes rear-mounted phase, volume, and frequency

controls

Energy efficient with advanced digital amplifier technology that runs cooler

24K gold-plated inputs provide the highest quality sound transfer

Faux leather finish and small footprint fits easily into any room decor
The OSD Black BK-TreVoce 10 DSP Subwoofer is design engineering at its best. This dynamic powered subwoofer is rated up to 500 Watts and includes an internal Digital Signal Processor (DSP) that modifies the audio signal digitally for tighter control on output accuracy. Its unique audio infrastructure also includes a 3-way woofer design with a 10" active graphite paper cone woofer and two 10" passive glass fiber cone radiators. The active subwoofer is self-contained and uses the sub's amplifier to reproduce sound while the two passive radiators work in conjunction to produce tight and powerful bass. The result is enormously full and "loud as you want it to be" bass that would only be possible with a larger, more expensive ported enclosure. Adding the BK-TreVoce 10 to your home theater or media room will free up your main speakers from having to produce low-frequency sound for which they were not designed to do, so you'll experience movies and music soundtracks with breath-taking authority.
Additionally, we have kept the iWoofer DSP engine as well. From your seating position, using the Android or Apple App you can make any adjustment needed to get the maximum out of your system. Amongst other things, this this allows you really fine-tune your subwoofer, carefully matching the main speakers to the sub, using variable slopes and role offs. Whether you have ported main speakers, needing 24 or even 48dB per octave filtering, or sealed acoustic suspension speakers needing 12dB per octave filtering, we have you covered. The infinitely variable phase correction and choice of cross-over points also provide for much better integration with the main speakers.
Then there is the 25-band digital parametric equalization that is built into the Trevoce10 EQ DSP. This allows you to correct for frequency response dips and peaks caused by positioning and room reflections. Simply use your phones microphone to measure the frequency response and then start making up to 25 different equalization adjustments until the response curve has been corrected. For iPhone users there is even a Pro App that can run auto-room equalization/correction.
Wireless Control of the DSP
The OSD Black BK-TreVoce series includes Digital Sound Processing (DSP, which is more efficient than analog, so noise is reduced, distortion is much lower, and the dynamic range is increased. Another unique feature of our TreVoce Series is wirelessly-controlled Digital Sound Processing (DSP) that allows you to customize bass response and maximize the subwoofer's performance via the free iWoofer app. Upload the app to your smartphone for one-touch control of bass output, phase and crossover control, and other critical settings for gut-wrenchingly real movie soundtracks and deeply engulfing high-end music soundtracks.
Committed to Energy Efficiency
A subwoofer should blow you away without blowing up your electric bill. The BK-TreVoce 10 powered subwoofer incorporates advanced digital amplifier technology that maximizes performance but, unlike other powered subs that run unnervingly hot, this sub is highly energy-efficient and generates very little heat. In standby mode, it consumes less than 0.5 Watts, making it one of the most energy-efficient subs on the market.
Dialed-in Performance
The BK-TreVoce 10 includes multiple controls to dial in just the right amount of bass, whether you're streaming the latest superhero film or chilling out with some smooth jazz on vinyl. Equipped with a mounted volume control, low pass crossover, and phase control, this sub allows you to control how the bass resonates and tailor it to your taste. The TreVoce Series also automatically switches to a power-saving standby mode. Power will turn on when a signal is detected through the input jacks, saving even more energy.
Finishing Touches
Our BK-TreVoce 10 DSP subwoofer includes gold-plated inputs for the highest quality sound transfer and maximum sonic purity. The reinforced enclosure is not a typical fake wood grain but a synthetic leather that blends easily into architectural settings.
Read More
Read Less
Technical Specifications
Power: 500W Dynamic

Active Woofer: 10" Graphite Paper Cone
Passive Woofer: Dual 10" Glass Fiber Cone

Frequency Response: 22-160Hz +/- 3dB ; 18-160Hz +/- 10dB

Impedance: 4 Ohms

Phase 0-180°
Multi-Voltage: 100-120V AC / 220-240V AC

Inputs: Low Level / Hi Level

Weight: 35 lbs

Dimensions (W x H x D):

14.6 x 14.6 x 13in

Wireless Control of DSP w/ iWoofer App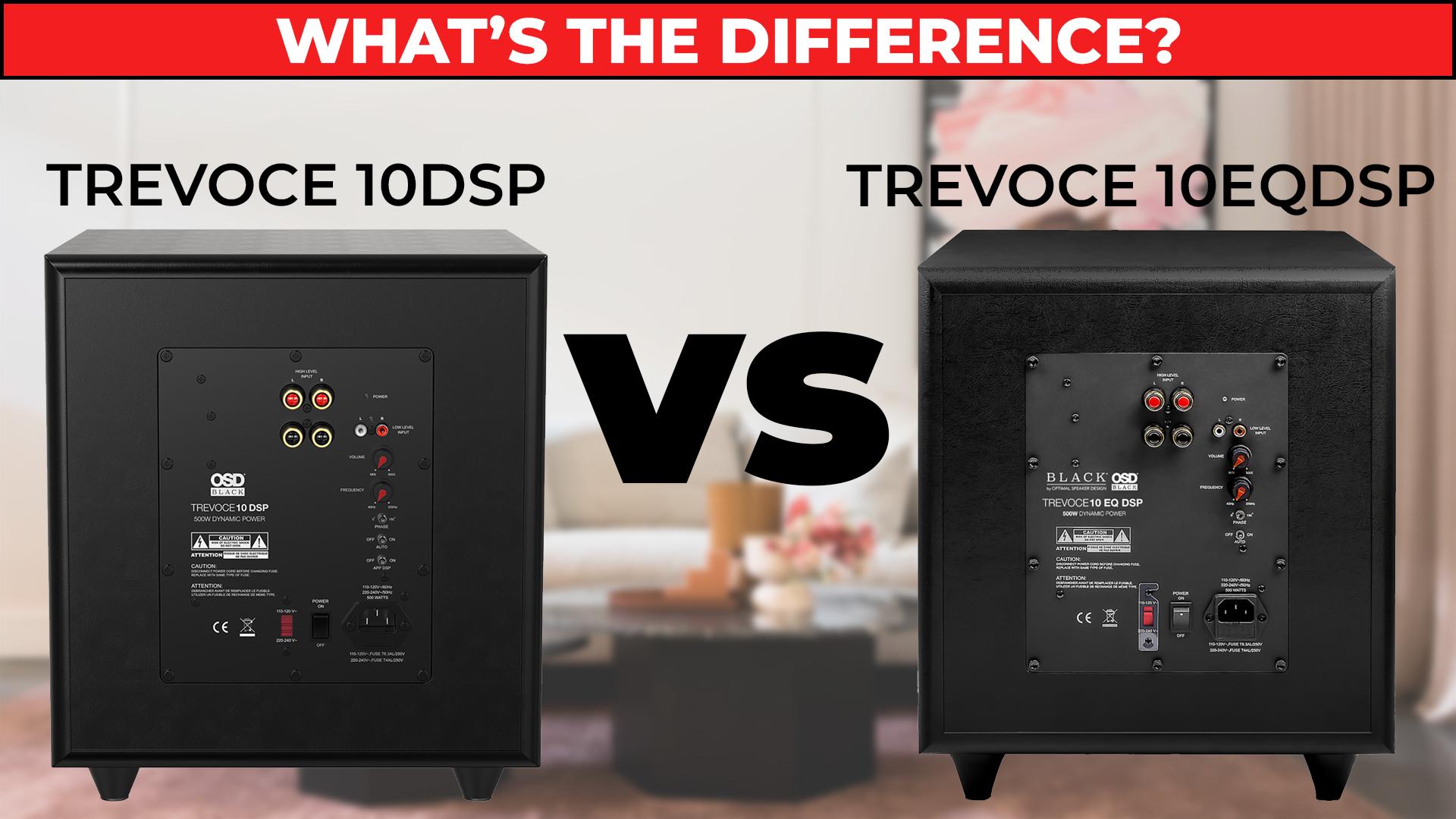 An experienced end user Richard Hedrick comments about our Trevoce […]