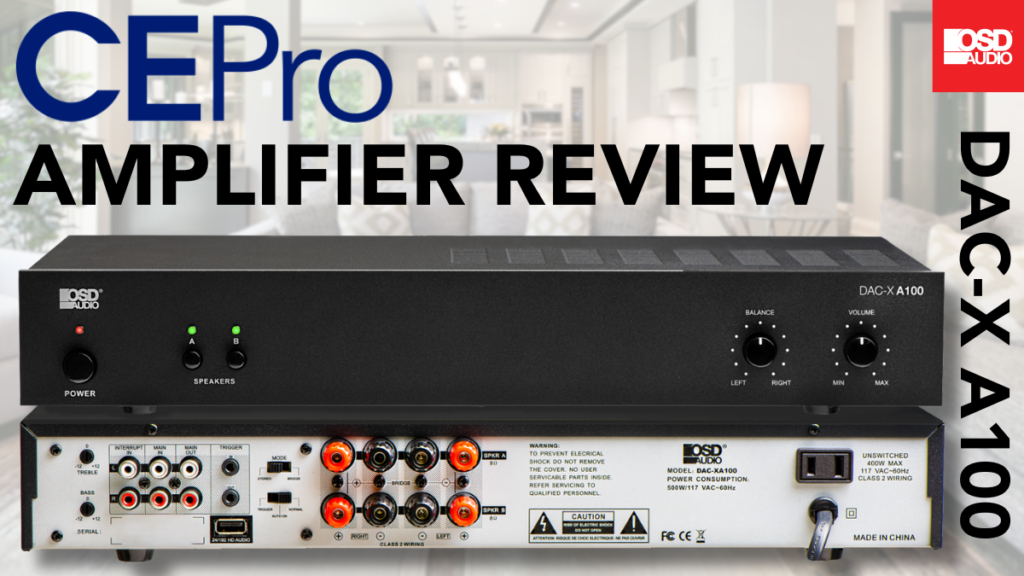 We at OSD Audio have always prided ourselves on delivering top-notch audio solutions to our customers. Today, we're thrilled to share some fantastic news with our community: our DAC-X A100 Amplifier has received an outstanding review from the highly reputed online platform, CE Pro. 
A Testament to Quality and Performance
The review, titled "OSD Audio DAC-X A100 Amplifier Mini-Review," delves deep into the features and functionality of the DAC-X A100. The author highlights the seamless integration, solid build quality, and exceptional performance of the amplifier. Such feedback reaffirms our commitment to design, innovation, and quality.
Key Takeaways from the Review:
Compact Design with a Punch: Despite its compact size, the DAC-X A100 has been praised for delivering a powerful audio experience that belies its diminutive stature.
Easy Integration: The review lauds the amplifier's capability to integrate effortlessly into existing setups, a feature that many of our users will undoubtedly appreciate.
Affordability Meets Quality: CE Pro was impressed by the balance of affordability and top-tier performance offered by the DAC-X A100. We've always aimed to provide our customers with value for money, and it's heartening to see our efforts recognized.
The OSD DAC-X A100 Dual Combo Difference
Audiophile Class AB Amp – Experience the pure sound of music with this audiophile-grade Class AB amplifier. It delivers up to 50W(RMS) per channel at 8 ohms, 60W(RMS) per channel at 4 ohms, and 150W bridged mono at 8 ohms, so you can enjoy your favorite tunes with crystal-clear clarity.
Digital Signal Processing – The built-in 24-bit, 192 kHz sampling D to A converter with USB Audio input ensures that your music sounds its best. This advanced technology converts digital audio signals to analog signals, which are then amplified and sent to your speakers. The result is a more detailed, immersive listening experience.
Continuing the Legacy of Excellence
At OSD Audio, we believe in continual improvement. Every piece of feedback, be it positive or critical, plays a crucial role in helping us refine our products and serve our customers better. The glowing review from CE Pro underscores our dedication to excellence and pushes us to set even higher benchmarks in the future.
A Heartfelt Thank You
We would like to take a moment to extend our heartfelt gratitude to CE Pro for taking the time to review our product. We're equally thankful to our customers and supporters, for it's your faith and feedback that drives us forward.
To those who haven't had a chance to experience the DAC-X A100 Amplifier, we invite you to discover what makes it a favorite among audiophiles. And to our existing patrons, stay tuned for more innovations from the house of OSD Audio!
For more details on the review and to explore the nuances of the DAC-X A100, we encourage you to read the full review on CE Pro.