Thumbnail Filmstrip of Cat6 23AWG x 4P, 10 Gig, 550 MHz Bandwidth Ethernet Cable, Tangle Free Carton, White (1,000 ft.) Images
High Performance: Up to 10 Gigabit Speed (165ft), up to 5 Gigabit at 328ft, Wide 550MHz Bandwidth
Quality Materials: 4 Twisted Pair Certified Pure Solid Bare Copper Wire for better Conductivity, Fire Retardant Polyvinyl Chloride Jacket
ETL Certified: 300V Maximum, up to 60W
Broad Applications: For Data, Video and Audio Transmission
For Indoor Use: The White Riser Jacket is for use Between Floors, In Wall, and Non Plenum Installation
Easy Pull Package: Tangle Free Reelex II 1 Layer Space Saving Corrugated Carton
Cable Labeling: Convenient 2ft Markings on Cable with Quanitity used.
Compatibility: Backward compatible with Cat5 and Cat5e
OSD's Cat6 23 AWG LAN Cable is designed for Commercial and Residential Applications. Transmission of Digital and Analogue for Data, Video, and Audio Applications. ETL Certified, the Cable is Fire Retardant, Strong and Durable. Suitable for up to 10KHz (165ft) and up to 5KHz at 326ft. 550 MHz Bandwidth. White with Sequential Footage Markings every 2 ft.
1000 AWG 23 Cat6 Ethernet Cable
Packaged in Tangle Free Reelex II Dispenser Carton
Read More
Read Less
Technical Specifications
Faster Than Cat5 and Cat5e
Backward Compatible with Cat5 and Cat5e
ETL Certified
UL Listed
Fire Retardant
Maximum Voltage 300V
Maximum Wattage 60W
Terminate with Standard RJ 45 Connectors
Pure Solid Bare Copper
550MHz Bandwidth
10KHz Speed at up to 165ft.
1-5KHz at 326ft.
23AWG
Ripcord: Polyester Multi-Yarn
Color: White
Supports PoE, PoE+ and PoE++
Overall Cable Jacket Diameter of 5.9mm
In Compliance with ANSI/TIA 568.2-D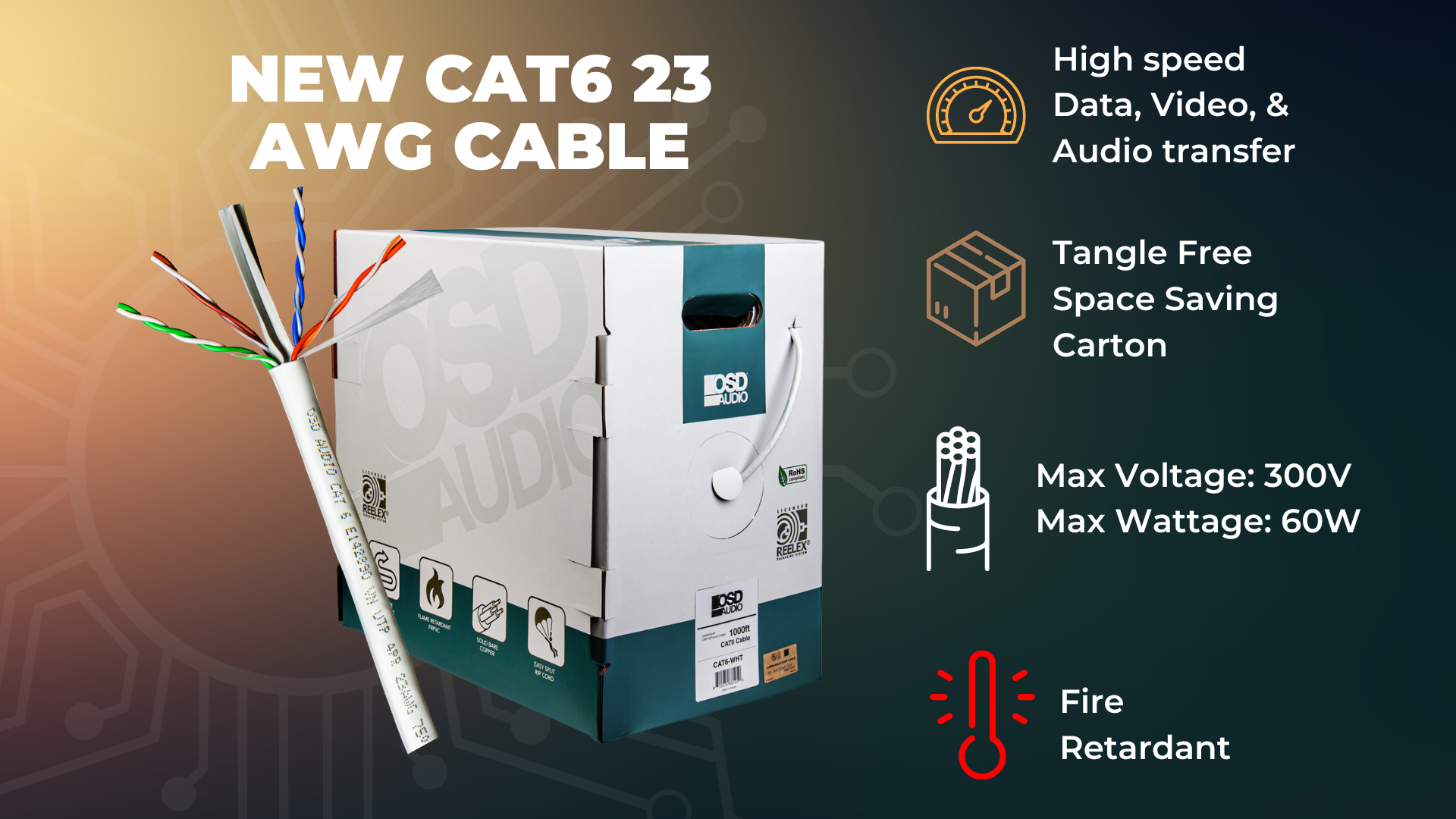 NEW CAT6 Bandwidth Ethernet Cable for wired networks & more.