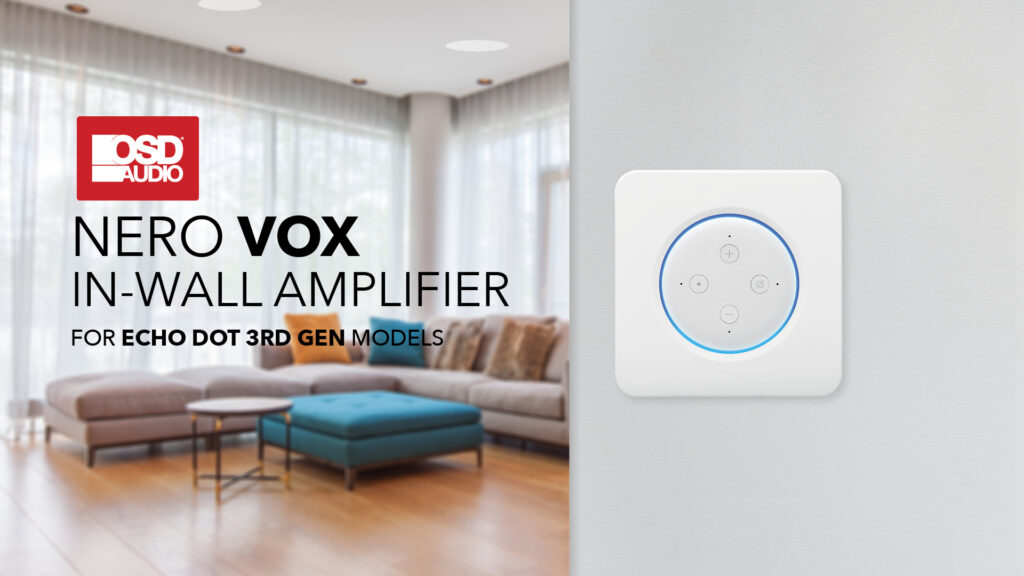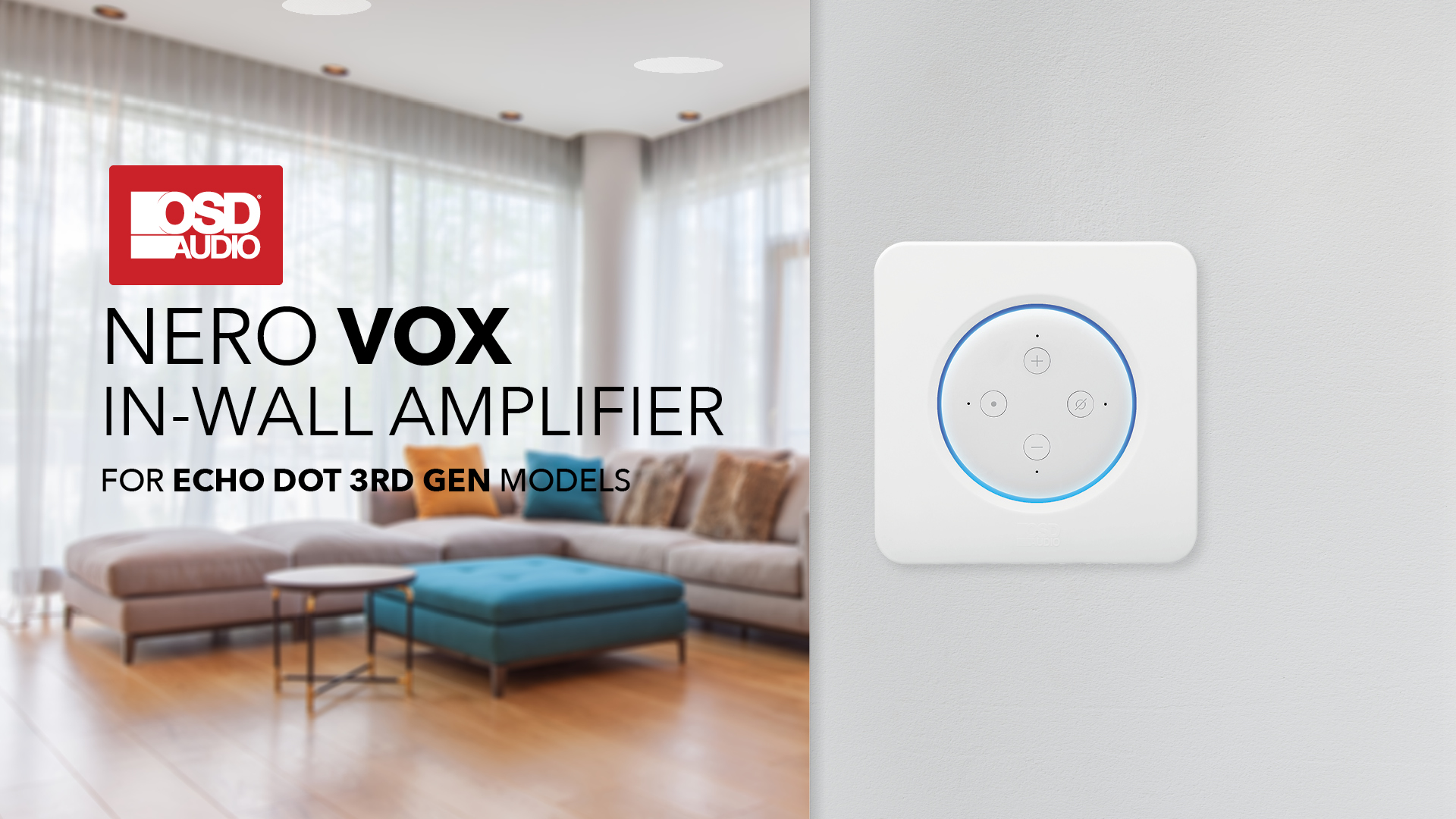 Are you tired of cluttered switches and touchscreens? Say hello to the NERO-VOX In-Wall Amplifier for Amazon Echo Dot 3 from OSD Audio. This innovative in-wall amplifier harnesses the capabilities of Alexa and the Echo Dot, allowing you to stream music from room to room without any switches, dials, or touchscreens.
With its six-inch square, flush-mount faceplate, the NERO-VOX provides 40W of power to a pair of on-wall, in-ceiling or in-wall speakers. This means you can experience remarkably better sound quality than the Dot's internal speakers and play what you want, when you want, all with hands-free voice control. Or, if you prefer, you can use the control buttons on the top plate of the Echo Dot.
The NERO-VOX is designed to work with the Echo Dot Gen 3 (not included) and enhances the streaming audio experience with high-quality sound. It eliminates dials, switches, and touchscreens for an architecturally elegant multi-room audio solution. The NERO-VOX runs 40 watts (20Wx2) per channel into a 4-ohm load and automatically determines 8- or 4-ohm load connection.
This in-wall amplifier is capable of driving a pair of 4-ohm speakers or one to two pair of 8-ohm speakers. It's an ideal upgrade for replacing in-wall volume controls in an existing whole-house audio system. The in-wall, flush-mount bracket holds the Echo Dot securely and preserves precious table and counter space in your home or office.
Pair the NERO-VOX with on-wall, in-ceiling, in-wall speakers, or bookshelf speakers for multi-room audio with voice control. The discreet flush-mount, in-wall design with snap-on paintable trim cover blends seamlessly into any décor. The NERO-VOX also includes a wall plate with subwoofer output to add any powered sub for a 2.1 setup and an Aux input for TVs and smartphones. An RJ 45 socket for connecting the wall plate to the Nero Vox is also included along with mounting accessories.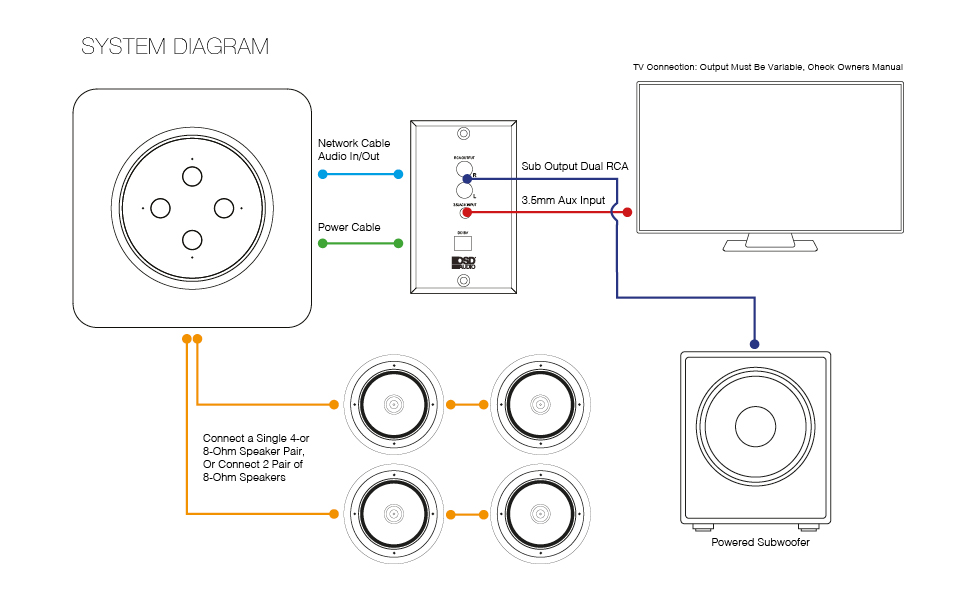 The NERO-VOX amplifier supplies 40W of power (20Wx2) and connects to on-wall, in-ceiling, in-wall, or bookshelf speakers with cables and wires hidden from view. Similar to installing in-wall speakers, the NERO-VOX is flush mounted and installs directly into a drywall surface with dog ear clips. The Echo Dot fits securely inside the docking station enclosure while the hidden amp and paintable cover trim blend into any décor.
The audio/input/output and power wall plate is typically installed near a power outlet and includes a stereo 3.5mm input to RCA outputs to connect a subwoofer to your sound system.. The NERO-VOX in-wall amp transforms the little Echo Dot into a high-performance audio system and unleashes the power of Alexa.
With voice-controlled access to your music library and Amazon Music as well as services like Spotify, iHeartRadio, Pandora, and TuneIn, you can add the NERO-VOX to any room with speakers and ask Alexa to play whatever you're in the mood to hear, either in a selected zone or throughout your house.
Learn more: https://www.outdoorspeakerdepot.com/echo-dot-3-in-wall-amplifier-nero-vox-outdoor-speaker-depot.html